The following is a list of minor characters in Camp Camp.
In addition to the main and supporting cast, there are other campers that attend Camp Campbell.
In "Mascot," a girl camper with navy blue hair is seen amongst the main campers as they march on chanting "pussies."
In "Romeo & Juliet II: Love Resurrected," various extraneous Campbell campers are seen seated amongst the crowd. One of these campers shouts "give up on your dreams!" to Preston as he is booed off the stage.
As seen in "Cookin' Cookies," there are other Flowerscouts within the organization and even within the troop lead by Penelope Priss.
Cashier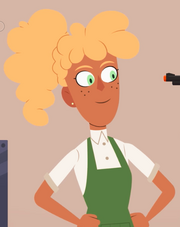 In "A Camp Camp Christmas, or Whatever," a cashier assists in David's holiday shopping.
She is voiced by
Christine Brent
.
Sheriff Sal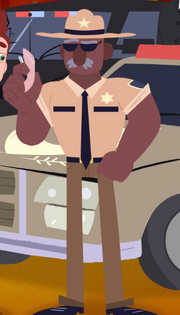 Sheriff Sal (or simply Sal) is the Sleepy Peak sheriff seen in "Escape from Camp Campbell." He is seen writing up a traffic ticket (or perhaps a report) to David after Max, Nikki, and Neil's botched escape attempt hijacking the bus and recklessly causing a traffic accident in the process.
He is voiced by
Josh Ornelas
.
Ad blocker interference detected!
Wikia is a free-to-use site that makes money from advertising. We have a modified experience for viewers using ad blockers

Wikia is not accessible if you've made further modifications. Remove the custom ad blocker rule(s) and the page will load as expected.