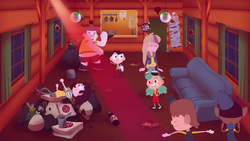 Camp Camp is an animated comedy series created by Miles Luna and Jordan Cwierz. Since debuting June 10th, 2016, 12 episodes have released in the first season.
Ending themes in the series typically consist of rap music.
Ending themes
Season 1
A soundtrack of the ending themes for season 1 (containing all 12 tracks below) was released on Amazon, iTunes, and Google Play on November 25, 2016.
Season 2
Notes
↑

Feat. Yung Humma

↑

Feat. Flula Borg and Flynt Flossy

↑

Feat. Adrienne Cowan
Ad blocker interference detected!
Wikia is a free-to-use site that makes money from advertising. We have a modified experience for viewers using ad blockers

Wikia is not accessible if you've made further modifications. Remove the custom ad blocker rule(s) and the page will load as expected.