Welcome to the

Camp Camp Wiki Wikia

Welcome to camp! We are an exhaustive resource about Rooster Teeth's animated comedy series, Camp Camp, that anyone can contribute to!
Featured Article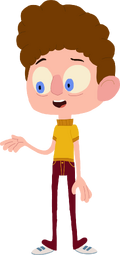 Neil
is a science camper at
Camp Campbell
. He is one of the three main campers of
Camp Camp
.
He briefly went by the name Neeancy when he pretended to be a girl while he and Nikki hung out with the Flowerscouts. (more...)
Characters
Click on a character below for more info...

Featured Poll
Season 1, Hiatus
You hyped for season 2 this June???
"JESUS CHRIST!" There are

spoilers

abound!

If you have not watched the latest episode, turn back!
Season 1, Hiatus
You hyped for season 2 this June???
For this wiki's poll archive, see Category:Polls.

---
Need to refresh your memory first? Try reading some of our episode articles.
What is your favorite episode this first season?
Twitter
Community Campfire
Welcome to the
Camp Camp Wiki Wikia
This is the Community Campfire. Here, this wiki's tasks and news highlights are listed.
---
Current Stats
We are currently maintaining 118 articles, with 7 different editors improving them in the last 30 days.
Current Tasks
This season may have ended, but many of the Camp Camp production members are still lacking wiki pages. Please help us out by creating their page!
We still need to add images to pages that need them, create wanted pages, and expanding our article stubs.
We are aiming to get to around 200 pages before the next season comes around.
Wiki News
Updated 1/23
Season 2 has been announced for this June, see you back at camp!
---
Happy camping!
Community Links
Latest Activity
Affiliates
Rooster Teeth Productions Rooster Teeth

Let's Play Network

Achievement Hunter

•

Cow Chop The Creatures

•

Funhaus Kinda Funny

•

Screw Attack

Shows

Camp Camp

•

Red vs. Blue

Related
Ad blocker interference detected!
Wikia is a free-to-use site that makes money from advertising. We have a modified experience for viewers using ad blockers

Wikia is not accessible if you've made further modifications. Remove the custom ad blocker rule(s) and the page will load as expected.